Work follow general for creating project:

DETAIL DESCRIBE :
To create a new project, login to rtSurvey system and go to Project Management Page
Click Plus button to go to New Project Page as below screenshot
There are four main steps to create New Project
STEP 1: Select plan
We have 2 plan categories are paid project by year or month.

Within each category, there are three plans included Savings, Professional and Enterprise. The benefits of every plan will be described in plan description.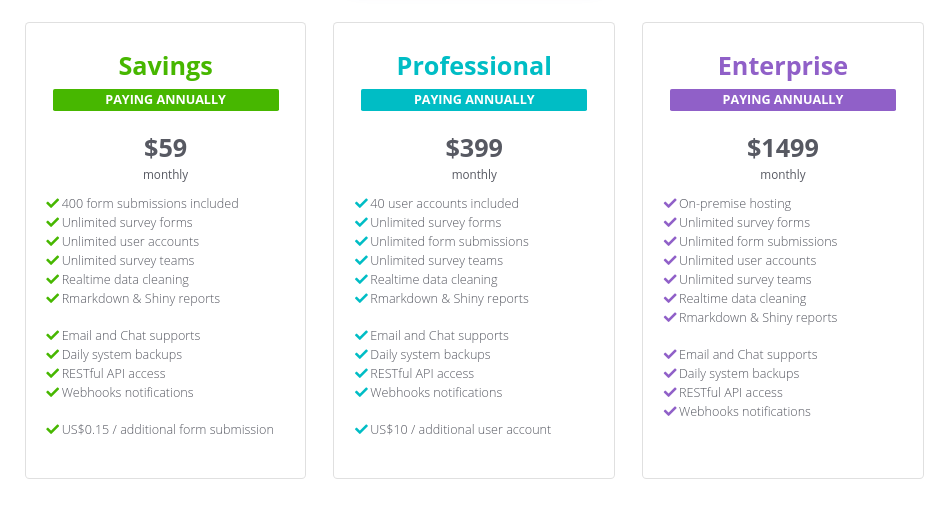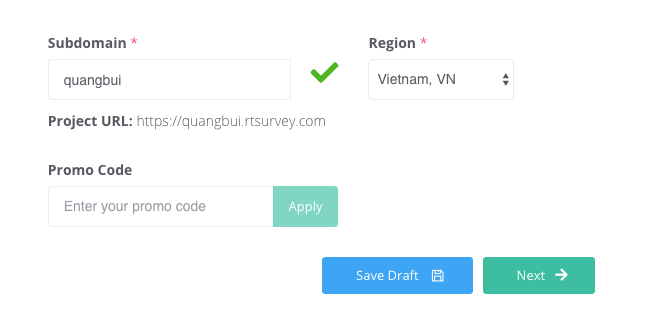 Subdomain: enter subdomain is only contain latin letters and number (Ex: if you enter subdomain is "demo", the project url is "https://demo.rtsurvey.com")
If the Subdomain are blank, the error message will be " Sub-domain cannot be empty "
If the Subdomain contains invalid characters, the error message will be " Invalid characters in subdomain name Enter only letters and numbers "
If the Subdomain is already exist, the error message will be " Subdomain "ABC" has already been taken "
Region: enter region where you want to deploy your site.
Promo Code: enter code and click apply, you will have voucher for discount product.
If the Promo Code is invalid, the error message will be " Promo Code "ABC" is invalid "
Complete step 1, click Next button to go to step 2. If you don't want to continue next step, you can click Save Draft button and data that was entered in this step will be saved then turn back project page. And now, we continue next step.
STEP 2: Pay now
Now, you had billing for this purchase. It look like below screenshot
There are 5 payment methods:
1. Promo Code Method
This payment method is only displayed when you enter a valid promo code in step 1 and the amount of this code is greater than the total of your billing. If you do not use up your promotional money, it will be lost. See below screenshot to better understand this method.

In this case, the promotional code is worth
$ 1,000
2. Trial Method
Assuming that you choose this method, you can use and not need paid within 15 days. when the trial expires, you will receive email notification and you have to pay charge to continue to use.
3. Balance Method
When you choose this method, your balance will be deducted money corresponding to total order value. The balance method will be disabled when you don't enough money in your account.
4. PayPal Method
After selecting this method and click Next button, your billing information will be send to the Paypal page. You can pay by Paypal account or Credit Card.
For example above picture have bill with total price $3.971. After paying success, you are redirect to Success Page of rtSurvey system.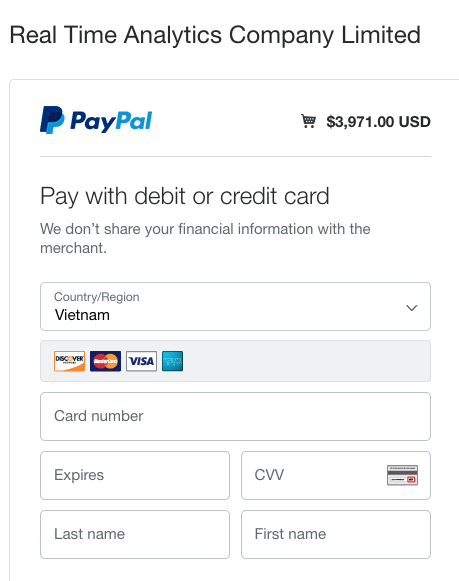 5. Bank Wire Transfer Method
When select this method, you will see RTA's bank account and a form for you to enter your transfer information as below screenshot: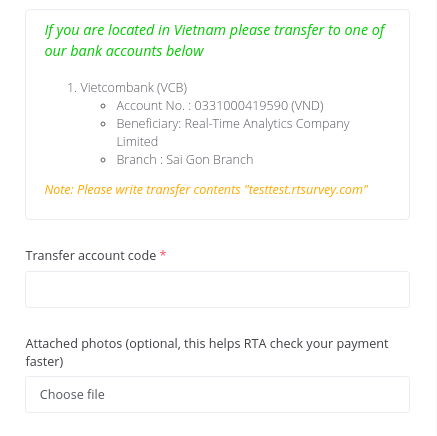 Transfer funds to RTA's bank account with account information as above.
After the transfer is successful, enter the information such as the Amount and Transfer account code that you transferred (required). Besides, you can attach photos or pdf file of your transfer information so that RTA can easily check and confirm. Finally, click Next button to go to next step.
STEP 3: Billing Info
This step allows you to enter the billing information. Fill in the required fields and click Next button to go to next step.

STEP 4: Deploy
This step displays the deployment status of project that you have just created.